While you surfing in internet in your browser about important things, chrome won't allow you to search anything and it keeps showing the error code: DNS_PROBE_FINISHED_NXDOMAIN. You can not do any search in chrome after this popup message came. Today I'll show you the permanent way to rid off this error.
 You may think this error is due to the internet issue but in real its not. This is due to the browser problem and dns problem. We are going to share the three best working methods to solve this error permanently. I'm sure this guide will helps you.
Also read: How to fix Unusual Traffic from your browser
DNS_PROBE_FINISHED_NXDOMAIN
---
Apply all the methods for good results.
1. Clear browser cache
Clear cache is the best practices to avoid the errors related to network in PC. You can use the ccleaner to clear all the cache files in computer also in browser.
90% of the users solved this issue after cleared the browser cache. Still facing the error? look at the other methods below.
2. Flushing DNS
Flushing DNS cache and renewing may solve this problem. Follow the below steps and apply.
Press "

ctrl +R

" to open run window.
Type "

cmd

" and press enter. It will opens the command prompt.
Type "

ipconfig /release

" in the command prompt window and press enter.
Type "ipconfig /flushdns" and press enter. You'll receive the success message for flushing the DNS server.
Type "ipconfig /renew" And press enter. This command is to renew your IP address.
After you finished the above steps restart your modem and PC and check the error is solved or not.
3. Changing DNS Server
We recommend you to use the google DNS in your network settings. Follow the below steps to know how to change DNS server in windows.
Search "ncpa.cpl" in the windows search and open it.
Right click the network you connected currently and open properties.
Select the "internet protocol version 4 (TCP/IPv4)" option and click the properties button below.
Use the below DNS server.
Preferred DNS server: 8 : 8 : 8 : 8
Alternate DNS server: 8 : 8 : 4 : 4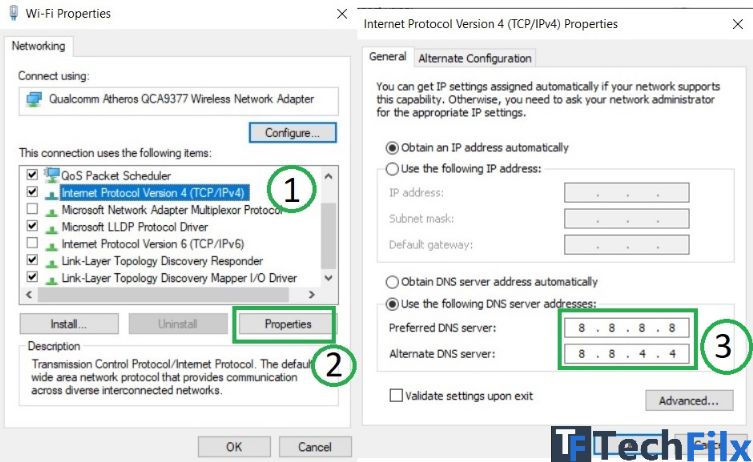 Apply this settings and restart your PC.
Final words
That's it these are the solution for this error code. We recommend you to run a malware scan in your PC to avoid these kind of errors in your PC and makes your PC healthy. If you find useful share in your social media. Don't forget to follow us on social media for more updates. Leave your thoughts in the below comments section.